Oskar Schmidt
Darkness appears in many ways
Stuttgart: 12. Juni - 14. August 2010
Leerzeile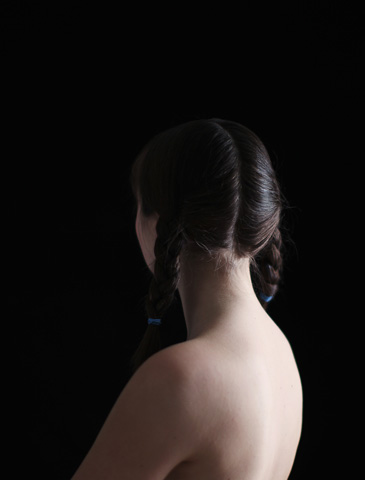 leerzeile
Oskar Schmidt »Darkness appears in many ways«
Zu fotografieren heißt, dem Wortsinn nach, nichts anderes, als mit Licht zu zeichnen. Wo das Licht aber fehlt und vollkommene Dunkelheit herrscht, da wird eine Kamera kaum etwas ausrichten können und muss die Kunst des Fotografen enden. In diesem Sinn sind Oskar Schmidts neue Arbeiten eine ausgedehnte Erkundung entlang der Ränder des Sichtbaren. Als sei man aus der großen Helligkeit eines sonnigen Tages plötzlich in ein dunkles Haus getreten, muss der Betrachter sich erst daran gewöhnen, wie wenig hier zu sehen ist. Sodann aber, hat man sich einmal auf den hier in jeder Hinsicht herrschenden Minimalismus eingestellt, wie viel. Prof. Dr. Steffen Siegel.
Oskar Schmidt (*1977) studierte an der Burg Giebichenstein Hochschule für Kunst und Design Halle sowie an der Hochschule für Grafik und Buchkunst Leipzig. Heute lebt und arbeitet er in Berlin. Seine Arbeiten wurden zuletzt in der Zabludowicz Collection London (2010) und der Art Collection der Deusche Börse (2010) gezeigt. Weiterhin wird ihm das Goethe-Institut in Washington D.C. mit »Wiedergängerinnen« eine Einzelausstellung widmen, die im vergangenen Jahr bei C/O Berlin bereits in der Reihe »Talents« gezeigt wurde.
leerzeile
Oskar Schmidt »Darkness appears in many ways« (engl.)
To pohotograph something means according to its literal sense nothing else than drawing with light. But when light is missing and complete darkness takes over a camera will hardly be able to operate and this is when the photographer's art will reach its limit. On this note Oskar Schmidt's new works are a wide stretched exploration along the edges of what is visible. As if one has suddenly trodden from the great luminance of a sunny day into a dark house the observer has to get used to how less is visible here. But thereafter one has adapted to this in all respects dominating minimalism like perhaps Prof. Dr. Steffen Siegle.
Oskar Schmidt (*1977) studied at Burg Giebichenstein Academy of Art and Design Halle as well as at the Academy of Visual Arts Leipzig. Today he lives and works in Berlin. His works have lately been shown in the Zabludovicz Collection London (2010) as well as in the Art Collection of the German stock-market (2010). Furthermore the Goethe- Institut in Washington D.C. will concentrate on a solo-exhibition with the title "Wiedergängerinnen" which has already been shown last year at C/O Berlin in the series "Talents".
Leerzeile
ARTIST TALK: SCHATTEN SCHATTIEREN, DONNERSTAG, 8. JULI 2010, 19.30 UHR: Oskar Schmidt spricht mit Prof. Dr. Steffen Siegel, Friedrich-Schiller-Universität Jena, über die aktuelle Ausstellung und sein künstlerisches Konzept fotografischen Wiedergängertums, das aus Portraits und Interieurs der Malerei halb vertraute Zeichen neu belebt.
Leerzeile
Leerzeile
Leerzeile
Parrotta Contemporary Art Stuttgart, Augustenstr. 87-89
Öffnungszeiten: Dienstag – Samstag, 14.00 – 19.00 Uhr
Hours: Tuesday – Saturday, 2 p.m. – 7 p.m.
Leerzeile
Leerzeile
Leerzeile
PRESS ARCHIVES