Peter Feiler
Paralüse
15.11. - 17.12.2011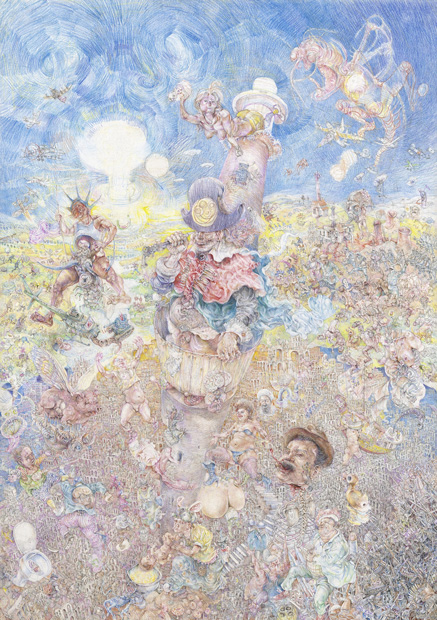 Peter Feiler »Turm« 2003, Buntstift auf Papier, 59 x 42 cm

Peter Feiler »Paralüse«
In den Arbeiten von Peter Feiler sind die Grenzen zwischen Spaß und Horror fließend.
Den Topos des Narrenschiffs greift er in seinen Zeichnungen immer wieder auf, wobei die bruchstückhaft aufflackernden Szenen einen Wirbel widersprüchlicher Assoziationsketten erzeugen. Die Vielzahl der zum Teil mikroskopisch kleinen Erzählkosmen ringen innerhalb einer aus den Angeln geratenen Gesellschaft um Aufmerksamkeit. Diese hochkonstruierten Erzählwelten Peter Feilers fordern den Betrachter dazu heraus, sich auf die phantastischen Verknotungen und irrwitzigen Details seines selbstreferentiellen Systems einzulassen und eigene Geschichten daraus zu formen. Text: Saskia Dams.
Peter Feiler »Paralüse (Paralysis)« Engl.
In Peter Feiler's works, the boundaries between fun and horror are fluid. He consistently takes up the topos of the ship of fools in his drawings generating a vortex of contradictory associative chains through fragmentary scenes which keep flaring up. Numerous - partly microscopically small - narrative cosms are competing for attention within an unhinged society. These highly constructed narrative worlds by Peter Feiler challenge the viewer to engage with the phantasmagoric interloops and absurd details of his self-referential system to then create a story of their own with it.