Steffen Osvath
Pusteblume
Berlin: 27. Juni – 19. Juli 2008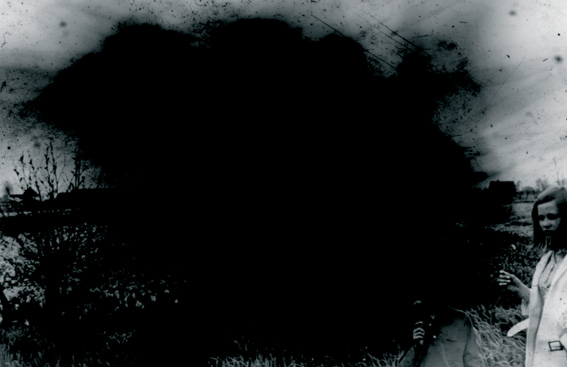 Die fotografische Arbeit Steffen Osvaths basiert auf gefundenen, aus dem Leben gegriffenen Fotografien. Meist sind es Schwarz-Weiß-Fotografien, wie sie jeder aus alten Schachteln auf dem eigenen Dachboden kennt, wo sie bewahrt und für die eigene Erinnerung oder die der Nachwelt aufgehoben sind. Jenen Fotografien jedoch, die von niemandem mehr aufbewahrt werden, die ihre einstige Zugehörigkeit und ihren Ort verloren haben, nimmt sich Steffen Osvath an, wenn er sie nach Entrümpelungen auf Recycling-Höfen findet. Die Menschen auf den Fotografien sind Unbekannte, deren Schnappschüsse und Familienportraits Fragmente einer nicht mehr zu rekonstruierenden Lebensgeschichte sind. In ihrer Ortlosigkeit werden die von Steffen Osvath ausgewählten Fotografien umso anziehender für unseren Blick, der die gespürte zeitliche und emotionale Ferne zu überwinden und in die zuweilen familiäre Intimität einzudringen sucht. Doch verhindern Steffen Osvaths Übermalungen, Durchstreichungen oder Ausradierungen eine Einfühlung in die dargestellten Personen. Indem er die Augen löscht, Gesichter fortkratzt oder die Übergabe einer Pusteblume im Bild explodieren lässt, enthüllen die Fotografien ihre latente Unheimlichkeit. Steffen Osvath wendet sich bei seiner Suche nach Fotografien, die er dann mit individueller Geste neu interpretiert, gerade solchen Aufnahmen zu, die dem öffentlichen Blick nicht zugedacht waren. Es sind labile physische und psychologische Momente, die nach der künstlerischen Überarbeitung jedoch kaum mehr auf die Innerlichkeit der dargestellten Person verweisen, sondern vielmehr auf die gesellschaftlichen Gegebenheiten innerhalb welcher diese Fotografien entstehen und schließlich verloren gehen konnten.

Project Space Berlin, Brunnenstr. 178-179
Öffnungszeiten: Donnerstag – Samstag, 14.00 – 18.00 Uhr

Steffen Osvath »Blowball« (engl.)
The photographic works of the young Stuttgart artist Steffen Osvath are based on pictures found and taken from real life. Most of them are black and white photographs as we usually find them in boxes in our attics, where they are retained and kept for our memory or posterity. However Steffen Osvath deals with the pictures nobody wants to keep anymore, which have lost their former belonging and place. He finds them on waste disposal sites after somebody's home has been cleared out. The people in the photographs are strangers whose snapshots and family portraits are fragments of lives which cannot be reconstructed anymore. With their placelessness, the pictures Steffen Osvath chooses attract our glance that tries to overcome the temporal and emotional distance we feel and sometimes to intrude into the familiar intimacy. But Steffen Osvath's method of painting over, his crossing out or erasing prevent any identification with the person depicted. By the means of digitalization he also moves away his found objects from their original materiality and provenance. By deleting eyes, scratching out faces or letting a blowball explode while it is handed over in the picture the photos reveal a latent eeriness. In his search for photographs Steffen Osvath specially turns to those pictures that were not meant to be seen by the public, and which he reinterprets with an individual gesture. It is this instable physical and psychological moment that however hardly manages to refer to the inwardness of the depicted person after the artistic revision, but rather to the social condition in which these photographs could emerge and get lost again.

Project Space Berlin, Brunnenstr. 178-179
Hours: Thursday – Saturday, 2 p.m. – 6 p.m.