Isadoras Schal
STUTTGART: 11. September - 18. Oktober 2008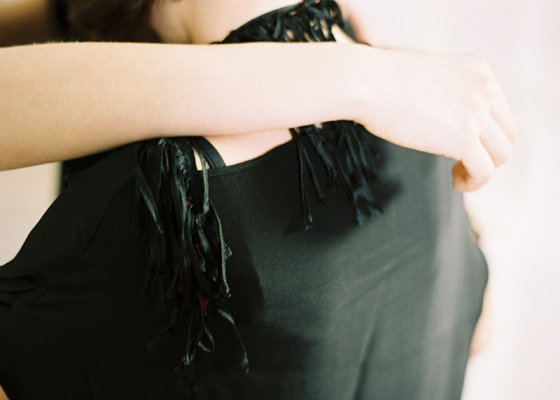 Susanne M. Winterling »Isadoras Schal«
In der von Susanne M. Winterling eigens für die Galerie entworfenen Installation »Isadoras Schal« widmet sich die in Berlin lebende Künstlerin den Unterströmungen des Rationalitätsprinzips der Moderne. Die formal strenge Schwarz-Weiß-Gestaltung des Ausstellungsraumes wird mit »Isadoras Schal« zum Hintergrund einer Bühnenkonstruktion, die in ihrer reduzierten Gestalt als bewegliches schwarzes Quadrat eine Gruppe von Puppen in konstruktivistisch anmutenden Kostümen trägt. In ihrer geometrischen Formensprache evozieren sie Kasimir Malevichs Oper "Sieg über die Sonne". Zugleich liegt in den puppenhaften Stellvertretern der nun abwesenden kindlichen Tänzerinnen, auf deren Körper die Kostüme ursprünglich zugeschneidert waren – hier auf einer erstorbenen Bühne ohne Zuschauerränge stehend – auch eine Referenz an Oskar Schlemmers "Triadisches Ballet". Schlemmer beschreibt seine Kostüme als "ein Zwischenglied zwischen absoluter unmenschlicher Marionette und der natürlichen menschlichen Gestalt". Der Mensch, insbesondere der tanzende Mensch, gilt auch Isadora Duncan, der Wegbereiterin des modernen Ausdruckstanzes, als Repräsentant einer höheren Ordnung, jedoch nicht als mathematisch-geometrisch bestimmbarer Typus wie bei Oskar Schlemmer, sondern als ein "natürlich" gedachter Körper in seiner Einheit aus Physis und Psyche. Zusammen mit der Fotoserie "The line and the circle in figuration", die Susanne M. Winterling in einer Berliner Ballettschule aufnahm, geht "Isadoras Schal" dem utopischen Tanzbegriff Duncans nach - nicht ohne die Ahnung einer gewissen Vergeblichkeit mit dem Titel der Ausstellung vorwegzuschicken, denn ihr Schal wurde der Tänzerin zum Verhängnis, als er sich in den Radspeichen eines offenen Sportwagens verfing.

Susanne M. Winterling »Isadora's Shawl« (engl.)
In the installation »Isadora's Shawl«, that has been conceived especially for our gallery by Susanne M. Winterling, the Berlin artist has addressed herself to the undercurrents of modernism's principle of rationality. The formerly strict composition of the exhibition space in black/white becomes through »Isadora's Shawl« the backdrop of a stage construction, that holds in its reduced design of a movable black square a group of mannequins dressed in seemingly constructivist costumes. In their geometrical design vocabulary they are evoking Kasimir Malevich's opera "Victory over the Sun". At the same time the doll-like substitutes for the infantile dancers, who are not present any more and for whom the costumes have originally been tailored for – now standing on a died down stage without an auditorium – also refer to Oskar Schlemmer's "Triadisches Ballet". Schlemmer describes his costumes as an "interlink between the absolute inhuman puppet and the natural human figure". For Isadora Duncan, the pioneer of modern dance, the human being, especially the dancing man, is a representative of a higher order, however not as a mathematically or geometrically definable type as according to Oskar Schlemmer, but as a "naturally" intended body in its unity of physique and psyche. Both the photographic series "The line and the circle in figuration", which has been taken by Susanne M. Winterling at a Berlin ballet school, and "Isadora's Scarf" pursue Duncan's utopian concept of dancing – not without anticipating with the exhibition's title the notion of a certain futility, as the dancer's scarf has turned out to be her doom when it got caught between the spokes of a sports car.

Augustenstr. 87-89
Hours: Thursday – Saturday, 2 p.m. – 7 p.m.