Timm Rautert
Koordinaten
Andreas Uebele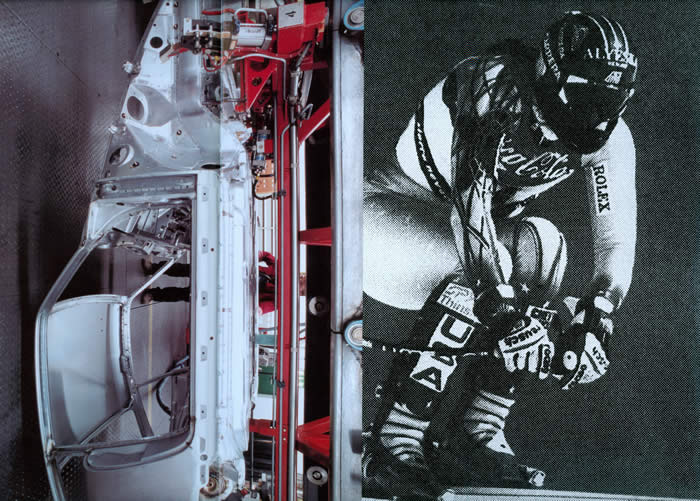 Carsten Tabel

Andreas Uebele Parrotta Contemporary Art
Timm Rautert »Koordinaten«
Koordinaten erlauben die Position eines Punktes innerhalb eines Gradnetzes zu bestimmen. B3 wäre beim Schiffe-Versenken ein solcher Punkt, der durch die Koordinaten B und 3 festgelegt wäre. Koordinaten stehen für ein mathematisch-rationales Bezugssystem, innerhalb dessen jeder x-beliebige Punkt beschreibbar wird. Je mehr Koordinaten hinzutreten, desto präziser wird die Lagebestimmung und desto verworrener wird das Netz, innerhalb dessen sich Intentionen, Wirkungen, Ereignisse verfangen.
Timm Rauterts (*1941) Fotografien sind und hinterfragen zugleich die Koordinaten der Arbeitswelt, innerhalb derer der Künstler auch seinen Beruf und sein eigenes Medium situiert. Mit seiner medienreflexiven Herangehensweise macht er die gängigen Koordinaten des Fotografierens sichtbar, und indem er sichtbar macht, was dazu da ist, verborgen zu wirken, dekonstruiert er die mit der Fotografie verbundene Ästhetik der Transparenz.
Wenn Timm Rautert Arbeitswelten fotografiert, so scheinen sich diese Fotografien zunächst durchaus durch einen hohen Anteil an Transparenz auszuzeichnen. Seine in dieser Ausstellung gezeigten Werkserien Porsche aus den Jahren 1968, 1992 und 2006 zeigen das Porschewerk mit seinen hochspezialisierten Arbeitern und hochtechnologisierten Maschinen. Wo sich das Medium in seiner traditionell dokumentarischen Funktion erfahrbar machen könnte, wird beim Anblick der Fotografien doch deutlich, dass sie in unseren Augen längst der Nostalgie und damit vollkommen anderen, nicht vorhersehbaren Koordinaten unterworfen sind. Dennoch erweist sich die Fotografie dabei als ein Medium, das prädestiniert ist, komplexe Zeit- und Erinnerungsprozesse aufzuzeigen, indem sie fortwährend Monumente eines gewesenen Hier und Jetzt produziert.
Die Darstellung der Realität weiß um die Realität der Darstellung, wenn Timm Rautert in seinen Bildpaaren eine seiner Fotografien aus dem Porschewerk mit der Fotografie eines Werbeplakates verbindet, das einen Skirennfahrer in rasender Geschwindigkeit im alpinen Wettkampf zeigt. Durch die Verknüpfung der Fotografie verkabelter Montagemaschinen des Porschewerkes mit dem Image einer menschlichen Maschine in Hochgeschwindigkeit, von potenzierter Kraft und Unverletzbarkeit, werden die narrative Struktur und die mögliche symbolische Bedeutung des Einzelbildes gebrochen und neue Beutungsmuster scheinen auf. In seiner Pixelstruktur weist sich die Fotografie des Rennfahrers - vollends referentiell - als Bild eines Bildes aus und dabei scheint etwas jenseits der Koordinaten auf, das indifferent bleibt und der Beschreibung trotzt.
Timm Rautert fotografierte nicht nur im künstlerischen, sondern auch im angewandten Feld der Fotografie für zahlreiche internationale Medien und Unternehmen. So arbeitete er in den 1970er Jahren als Fotograf, u.a. für das Zeit-Magazin und Geo. In der Koordinaten-Serie werden Fotografien aus so genannten angewandten Serien mit sogenannten freien verschränkt, und es wird deutlich, dass beides ohnehin schon miteinander verbunden ist.
In seinen künstlerischen Arbeiten zitiert er sich selbst und abstrahiert die dargestellte Situation. Es sind Abbilder von Bildern, Vorstellungen von Vorstellungen, sie referieren auf die Technik und weisen zurück auf das Medium - auf die Fotografie als ein technisches Bild, das stets eine Konstruktion ist.
Timm Rautert studierte bei Otto Steinert an der Essener Folkwang Schule, es folgte fotojournalistische Tätigkeit, begleitet von bildanalytischen Projekten sowie Gemeinschaftsprojekten mit dem Grafiker Otl Aicher. 1993 bis 2007 hatte er eine Professur an der Hochschule für Grafik und Buchkunst in Leipzig. 2008 erhielt er als erster Fotograf den Lovis-Corinth-Preis. Vor wenigen Wochen endete eine umfassende Retrospektive mit dem Titel 'Wenn wir dich nicht sehen, siehst du uns auch nicht' im Rheinischen Landesmuseum Bonn. EINLADUNGSPLAKAT.PDF.
Andreas Uebele Parrotta Contemporary Art
Andreas Uebele Parrotta Contemporary Art
Timm Rautert »Coordinates« (Engl.)
Coordinates allow the position of a point on a grid to be determined. The point B3 in the game "Battleship" would be determined by the coordinates B and 3. Coordinates stand for a mathematical-rational reference system, within which each x-arbitrary point is described. The more the coordinates are added, the more precise the location of the destination and the more confused the network becomes within whose intentions, effects, and events get caught. Timm Rautert's (*1941) photographs are coordinates and at the same time analyze the coordinates of the working sphere, within which the artist, his occupation and his own medium are situated. With his media reflexive approach he makes the usual coordinates of photographing visible, and by making them visible, what there is to make it look hidden, he deconstructs the aesthetics of transparency which is connected to photography. When Timm Rautert photographs the work world, these photographs seem to distinguish themselves first of all completely through a high share of transparency. His photographs in this exhibition from the series of works of Porsche in the years, 1969, 1992 and 2006 show the Porsche factory with its highly specialized workers and high-technology machinery. Where the medium in his traditional documentary function could make itself tangible, it becomes nevertheless clear at the sight of the photographs that they turned long since nostalgic in our eyes and with that altogether different, not subjected to foreseeable coordinates. Nevertheless the photographs prove at the same time as a medium that is predestined to show complex time processes and memory processes in that they have been continually producing monuments of the here and now. The representation of the reality knows its way around the reality of the representation. We see this when Timm Rautert connects in his coupled images one of his photographs from the Porsche work alongside a photograph of a newspaper showing a ski racer in racing speed in an alpine match. By linking the photograph cabled assembly machinery of the Porsche plant with the image of a human machine at high speed of magnified power and invulnerability, the narrative structure and the possible meaning of the single image is broken and a new interpretive pattern seems to emerge. In his pixel structure shows the photograph of the racer - fully referential - as an image of an image and it seems that something beyond the coordinates shows up, which remains indifferent and defies description. Timm Rautert has photographed not only artistically, but also in the practical field of photography for numerous international media and businesses. He worked in the 1970's as a photographer for Zeit-Magazin and for Geo among others. In the coordinate series are photographs from the so-called practical series with the so-called free intertwined, and it becomes clear that both are already linked. In his artistic works, he quotes himself and abstracts the represented situation. They are images of images, ideas about ideas, they refer to the technique and point back to the medium - of photography as a technical image that is always a construction. Timm Rautert studied under Otto Steinert at the Essener Folkwang school, thereafter he worked as a photographer, as well as with picture-analytic projects and community projects with the artist and graphik designer Otl Aicher. From 1993 to 2007 he held a professorship at the School of Visual Arts in Leipzig. In 2008 he was the first photographer to receive the Lovis Corinth Prize. A few weeks ago, the event held with this comprehensive retrospective ended, entitled "If we can't see you, then you can't see us' in the Rheinisches Landesmuseum Bonn/Germany.